New Black Cerakote Options!!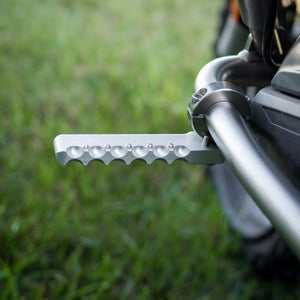 Adventure Bike Pegs
We design, manufacture, and sell highway motorcycle foot pegs that are built to match the quality and style of great adventure bikes. They are simple, effective, and understated. The materials used are stainless steel and anodized aluminum. Our black pegs are colored using Cerakote.

Our bike pegs are currently tested and proven on the the OEM crash bars of all BMW GS Adventure bikes, 2013 and newer, and also the Harley-Davidson Pan America.
We have added side stand feet and premium travel cooking forks to our product lineup!
Our side stand feet are machined precisely, made with anodized aluminum and stainless steel.
We are proud to say our highway pegs, side stand feet, and travel cooking forks are designed and manufactured in the USA.
And we source our premium materials from local vendors.
Stretch Your Legs & Ease Your Knees
You can never have enough positions for your knees on those long rides to your next destination.
Our highway pegs have adjustment screws that allow you to set the open angle of the pegs to your comfort.
The pegs are precision tensioned to stay in place when open or closed.
Will the Adventure Bike Pegs fit your crash bars? Possibly …
We currently offer two collar sizes. The diameter specs below are the inside diameter.

1" / 25.4 mm - This has been proven and tested to fit the BMW water cooled GS Adventure OEM crash bars. (2013 & newer models)

.85" / 21.6 mm - This has been proven and tested to fit the Harley-Davidson Pan America OEM front vertical crash bar.

There is a need for clearance to accommodate the collar thickness, which is ⅜". The pegs are each 5" long.
Testimonials
These pegs are EXCELLENT. I installed them on my 2022 Harley-Davidson Pan America Special on 3/30/22 then headed out to March Moto Madness in Tellico, TN. 975 mile round trip originating from Surfside Beach, SC. The "Adventure Bike Pegs" made a huge difference for riding that far. At the Rally Harley Davidson had Pan Am demo rides set up right beside the Yamaha demo's (Tenere models). I showed the reps my "Adventure Bike" pegs and they said those were the best they had seen yet and were going to get a set for their personal PA's. Great job guys on the design of this product and thank you for making them in this great U.S.A.!

Larry
Just installed mine yesterday. Love them!! Thank you.

Mike
Great product! I put the first set on my Harley Pan America. I put the second set in my BMW R1200RT.

Richard
nice quality pegs. very happy with mine highly recommend them. 👍

Douglas
They work good on BMW R1200RT's as well if you have engine bars. I love mine, perfect for stretching the legs.

Roger
Just got mine installed today. Awesome high Quality thanks big difference for long distance rides. They fold back and under, I love them !!

Marlin
Really like the set I got 4 my Pan Am.
Light and simple does not add 6 pounds of crap like some of the other kits.

Todd
Phenomenal American made product!!!

Paul
I am very happy with my pegs. I've had them on my Pan America for about 5500 miles now. The build quality is second to none!

Benjamin
I just installed them on my Pan Am. Haven't really got to try them out yet beyond the "center stand adventure" due to the daily snow fall here in Western Montana. Very happy with the engineering and overall quality. Good job to your team. Keep it up!

Vincent
You won't find a company that works harder than we do when it comes to quality, attention to detail, and customer communication.